BP Koirala India-Nepal Foundation's different programmes like Cinemandu, Poemandu, Voices, Conversations, have become popular among the intellectual and literary circle as well as students and youths from the universities and colleges located in Kathmandu valley as well as outside the valley.
The program 'cultural nagari' is conceptualized to conduct the movie screening, poetry recitals, stage performances, voices and conversation in other cities of Nepal as well. The main objective of the programme is to engage the artist, performers, and intellectuals as well students and youths of the respective cities and the adjoining areas. The program consists of conversations between the authors, poetry recitals, talks by eminent persons and screening of Nepalese and Indian films and documentaries.
The program has been very successful in highlighting the local culture of different regions of Nepal and in providing a platform to emerging local cultural groups, poets, writers and dance & music institutions of the regions. The program has been organized in Jomsom, Pokhara, Lumbini, Dharan, Janakpur and Biratnagar.
Cultural Nagari' program at Biratnagar
Published On: May 27, 2016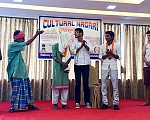 Embassy of India in Kathmandu and B.P Koirala India- Nepal Foundation organized a 'Cultural Nagari' program on Friday, 27th May 2016 at Hotel Harrison Palace, Biratnagar. 'Cultural Nagari' program was designed to foster the native culture of the sub-metropolitan city of Biratnagar and the adjoining areas. The program comprised of performances by local cultural organizations.…
Cultural Nagari programme in Jomsom
Published On: September 11, 2015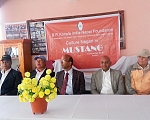 Culture Nagari programme was organized in Jomsom to commemorate birth anniversary of B. P. Koirala. The programme was organized in association with Janhit Higher Secondary school and Step Nepal Mustang. The programme was attended by Chief District Officer, District Education Officer along with several dignitaries and academicians of Nepal. During this occasion several students and poets…