'Poemandu' is a poetry recitation programme initiated by B.P Koirala India- Nepal Foundation. The programme was inaugurated on March 21, 2013 on the occasion of 'World Poetry Day' jointly by the National Poet of Nepal, Shri Madhav Prasad Ghimire and former Chancellor of Nepal Academy, Shri Bairagi Kaila. The editions of 'Poemandu' feature various poets from different regions of Nepal reciting poetry in different languages. Poems in Nepalese, Urdu, Maithali, Awadhi, English and Newari have been recited enthralling audience of varied age groups and background. BPKF has organized 30 editions of Poemandu till date.
Poet's Conference-Promoting literary ties
Published On: November 23, 2018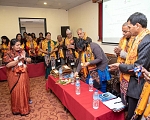 B.P Koirala India-Nepal Foundation in association with Tribhuwan University organized a Poet's Conference from 23rd -24th November 2018. Forty distinguished poets from India participated in the conference. The Conference created remarkable buzz among the poetic circle of India and Nepal.